RR badly wanted two points in their bag but failed terribly, as they lost the game by 46 runs to DC.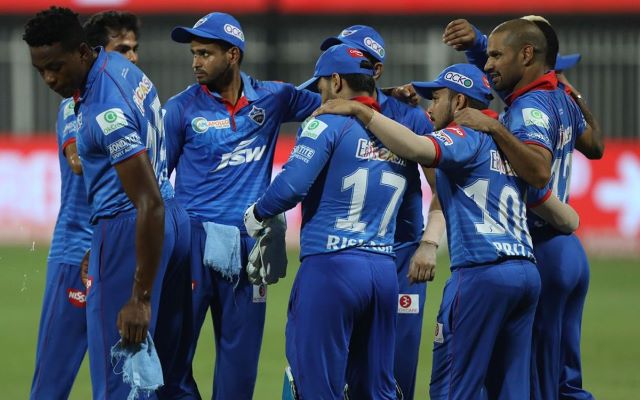 The 23rd match of the Indian Premier League saw action between Rajasthan Royals and Delhi Capitals in Sharjah. RR badly wanted two points in their bag but failed terribly, as they lost the game by 46 runs. DC came up with the bat first and posted a good total of 184/8 on the board. The opening order of DC displayed an average show but their game towards the end went on to a different level due to significant knocks by Shimron Hetmyer (45 off 24) and Marcus Stoinis (39 off 30).
Cameo by skipper Shreyas Iyer (22 off 18) remained significant in pushing Delhi towards a great score. Rahul Tewatia remained the most economical bowler from RR's bowling unit as he conceded just 20 runs in four overs and scalped one wicket too. Jofra Archer remained effective as he named three scalps to his name.
Ravi Ashwin came too well for DC
Ravi Ashwin put up the best bowling show from Delhi's end as touched figures of 2/22 in four overs and was ultimately named as the player of the match. Chasing the big score in front, the big names came and went without fetching anything good for the team. Young Yashasvi Jaiswal gave a contribution of 34 runs from his bat. Rahul Tewatia's 38 off 28 stood too less ahead of massive target.
Losing skipper, Steven Smith said
We are not playing good enough over the 40 overs, and not executing when the pressure is coming on and you can't win many games that way. The bowlers did a good job, and I don't think the wicket was as good as it has been here, a bit stopping tonight, and we gave away 10-15 extra runs. We have to remain positive, turn things around quickly. At the moment it doesn't seem to be going our way. I'm not batting too well either. I did feel good tonight with the bat but didn't get hold of one that I feel like I should have. Stokes hasn't had a lot of practice, he gets out of quarantine tomorrow, so we'll see if he plays the day after tomorrow.
Also Read
Winning skipper, Shreyas Iyer said
I'm really happy with the way we came out in the second innings. We thought it was an under par score but it was stopping on the wicket and the bowlers executed their plans really well. We were also going to bowl first with the dew factor, but thankfully it went in our favour. I am enjoying captaincy because the players make it really easy, especially the bowlers. Even the way the support staff is managing the team meetings is commendable. I think the mixture in our team is really good and we have worked really hard on this. The boys have shared their thoughts pre-tour and their strengths and weaknesses. I am happy with how we are progressing and hoping to maintain the momentum. We can't take anything lightly and need to come with our plans, execute them well.
Man of the match, Ravi Ashwin said
One of the important thing in this bowling attack is that most bowlers can bowl at any moment. It is sort of a role where you can put your hand up and be brave about it. Credit goes to the backroom staff. I am in a very good space mentally and physically and it really shows. Really enjoying myself in both those spaces. I just need to take it out to practice once the planning is done and then go out and express myself.

I did use the carrom ball in the powerplay once or twice. It is just about how much you want to use it in the powerplay when you're ahead of the game. I got a brilliant catch and getting that Jos (Buttler) wicket was important. But the ball was soaking wet after the powerplay and the sweat didn't help either. (On his injury) In a lot of positions my body is taking over psychologically. I just don't want to land awkwardly and put weight on it. But it is important that I look after myself and not stretch it.
129 Views