The play got delayed by a few minutes.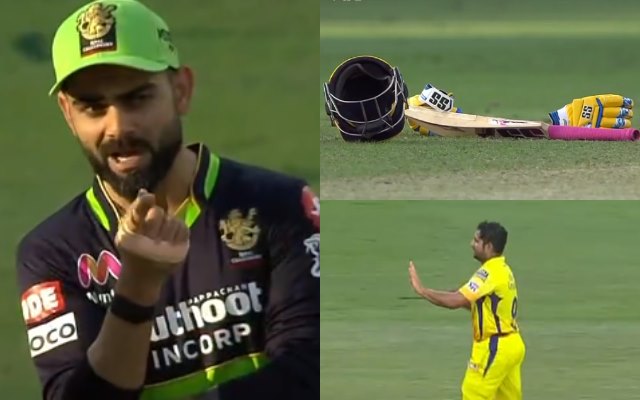 Sunday's clash between Royal Challengers Bangalore (RCB) and Chennai Super Kings (CSK) was a one-sided affair with the Men in Yellow comfortably winning the match. Ruturaj Gaikwad was the star of the day for them as he smashed an unbeaten half-century in the chase. Even Ambati Rayudu seemed to have found his mojo back after his struggles in the last few games.
He scored 39 runs off 27 balls in the 146-run chase with three fours and a couple of sixes. But the Hyderabad cricketer isn't the news for his sublime innings. Rather he left everyone baffled during the strategic timeout in the chase as Ambati Rayudu was nowhere to be seen on the field.
The 2:30 minutes break ended even as all the players got into their respective positions only to find that the CSK batsman was missing. "We've got a missing player, that's what it is. We've got no Ambati Rayudu. He'd left the field, we assumed for a bathroom break," the commentator said.
Ambati Rayudu's upset tummy
The reason for Ambati Rayudu delaying the strategic timeout break was his upset tummy. The play was delayed for a couple of minutes more. He came back running on the field soon and looked a bit tired while also apologising the RCB wicket-keeper AB de Villiers for the delay. The two were also seen having a laugh about it while Rayudu was wearing his pads and helmet to get ready to face the bowler.
However, Ambati Rayudu could only stick around for three more balls after the break. Yuzvendra Chahal castled him in the 14th over of the innings to give RCB it's second and final wicket of the day. Ruturaj Gaikwad and MS Dhoni then made sure that there were no more hiccups in the chase and took the team home in the 19th over to seal the deal with eight wickets in hand.
By this point, CSK were mathematically alive in the tournament but then Ben Stokes' heroics led the Rajasthan Royals to a crucial win over Mumbai Indians (MI). This led to CSK getting knocked out of the IPL for the first time before the playoffs in 11 seasons.
305 Views