People ask me everytime they come across me that why did I burn down the Indian flag? It is very unfortunate that many people from around the world are unaware of Nagaland's horrifying history with India, it is mainly because Nagas have not worked hard enough to internationalize their plight and expose Indian barbarism the way Sikhs and Kashmiris have done.
As a Naga nationalist, I made a video of myself burning down the Indian flag and seeking Pakistan support for Nagaland's complete independence from India.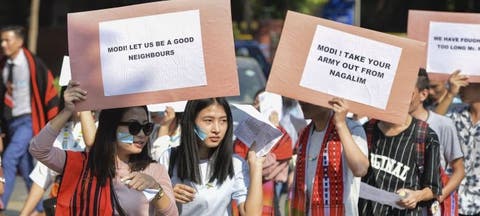 Today I felt like writing down Nagaland's brief history with India that is only filled with barbarism, oppression and genocide and hope that the civilized nations would come forward to support us.
The Naga people originally came from Mongolia, migrating to the present Nagalim (Naga Hills) as early as 10th century BC. The British colonial regime invaded western part of Naga Hills (Now India part of Nagalim) in 1832. And in 1881 it was declared a British District. It is believed that the British never reach the eastern part of Nagalim (Now Burma part of Nagalim) until 1930.
A memorandum was summited to the British government (Simon Commission) in 1929 by representative of the Nagas called "Naga Club" formed in 1918 for constitutional reform. Nagas clearly stated to the British about its sovereignty in 1929 and also in 1946-47. It was clearly stated that Naga will remain an independent nation, and do not wish to join the Dominion of India. The Naga National Council (NNC), founded in 1946, claimed an independent and sovereign state for Nagalim and declared independence on August 14, 1947, as the British withdrew from their territory, and one day before India became independent. Nagalim was not part of the Indian Union at the time of India's independence. Therefore, Nagalim is not part of India. But India invaded Nagalim shortly after its independence.
India fights against the colonialist British but soon became a colonial state when India was liberated from the British colonial and became free nation. An agreement was signed by the NNC with the government of India called "The Nine Point Agreement". This agreement recognized the right of self-determination of the Naga people, stating that 'The right of the Nagas to develop themselves according to their freely expressed whishes is recognized'.
The government of India was to have a special responsibility for a period of ten years to ensure the due observance of the agreement. At the end of that period, 10 years, the Nagas would be free to decide whether they want to join the Union of India or be free. However, on November 9, 1949, India revoked the agreement unilaterally, stating that the Indian Government no longer considered the agreement valid. U Nu (the first prime minister of Burma) and Jawaharlal Nehru (the first prime minister of India) visited Nagaland on March 30th, 1953 on their own initiative without being invited. In protest, for disrespecting the Naga's sovereignty, Naga people walked out of the meeting in mass to the last man.
Nehru was very much humiliated and deeply disappointed, and in April 1953, the Government of India started ruthless political persecution, including mass arrests, torture, and terrorizing against the Nagas. On April 13, 1953, the Indian Government even gave instructions to the Indian Armed Forces in Naga Hills to rape Naga women.
A letter of protest was subsequently sent to the Prime Minister of India against this abominable instruction. Nehru and U Nu agreed upon to take control over Nagalim – Eastern part of Nagalim to be controlled by Burma, and Western part by India. Jawaharlal Nehru, the Indian historian and the author of Glimpses of World History had stated that "By the tribal areas, we mean those long stretches of land between Burma and India which belongs neither to India or Burma or any other foreign powers".
However after India's independence and realizing the advantage of an enlarged territory, he had made a full turnabout and insisted that all the British territories were now Indian Territory. Mahatma Gandhi, the father of Indian nation had stated that "Nagas have every right to be independent". NNC formed Federal Republic of Nagalim in 1956. In response, the Government of India enacted the Armed Forces Act and conducted military operation in all the Nagas inhabited areas.
Gandhi's doctrine of non-violence was no longer upheld after its independence. Thousands of houses, churches and schools were burnt down and dismantled. Innocent civilians were reportedly tortured by high ranking army officers up to the extent of burying alive after third degree torture.
Pregnant women were kicked and abused and were reportedly forced to give birth in front of the Jawans. Hundreds of villages were burnt down. Almost the whole population was driven into jungles where they live on roots and leaves without medical care. Thousands died of starvation and diseases. Village headmen were blindfolded and executed with their hands tied behind their backs. Many strong men were hung upside-down to death and even roasted. Many were locked-up and put to death of hunger. Many women were raped on the pulpit inside the Holy Church. Many men were tied-up and forced to watch their wives and daughters being raped by the Indian army.
Even men were sexually abused at gun-point. Many innocent young men were brutally executed and chopped off their heads mercilessly one after another. Lt. Pogholo of Matikhrii village was one of the victims whose head was chopped off along with 8 others villagers on 6thof Sept 1960.
The brutality and horrific execution by the Indian army was beyond imaginable and pardonable. Young women were raped in front of their village elders.
A beautiful young lady called Rose from a Tangkhul Naga community was one the victims. Eventually Nagaland state, a small part of India part of Nagalim (Naga Hills) was created in 1963. Today Nagas are divided as – Myanmar Nagas and India Nagas. The Nagas in India are further divided as Nagaland Nagas, Manipur Nagas, Arunachal Nagas and Assam Nagas. Unlike the Naga, the Meitei on 15th October 1949, by Maharaja Bodha Chandra Singh, ceded "full and exclusive authority, jurisdiction and powers for and in relation to the governance of the State" to Dominion Government of India through the Manipur Merger Agreement, signed on 21st September 1949. And the actual size/area of Manipur that was agreed upon to merge with India was less than 2000 square kilometers.
But today, Manipur has an area of 22,327 km², out of which more than 20,000+ km2 belongs to the Nagas. Dividing the Nagas into pieces was India's policy to weaken them. But the birthrights of the Nagas can never be taken away by any mighty power on earth so long as the Nagas stand united by heart and blood. More than 300000+ Nagas lives have lost.
But all the atrocities and killings were kept hidden from the outside world until today. It is time for the world to come and save the Nagas from the heinousness of India terrorizing a weaker nation. Nagas can no more bear the brutalities of the Indian army. In the eyes of the Nagas, the Indian army is the real terrorist and threats to peaceful co-existence.
A video of brave Naga girl beating the Indian Soldier gone viral, the soldier attempted to rape this girl from Kohima.
Burning down the flag of a country that is bent on destroying my race is simply a demonstration of my strong protest. I am weak that I can't resist the Indian tanks and jets but I am strong enough to stand for my people and speak out against this corporate Hindu state.